Centre de services de proximité de l'est de Laval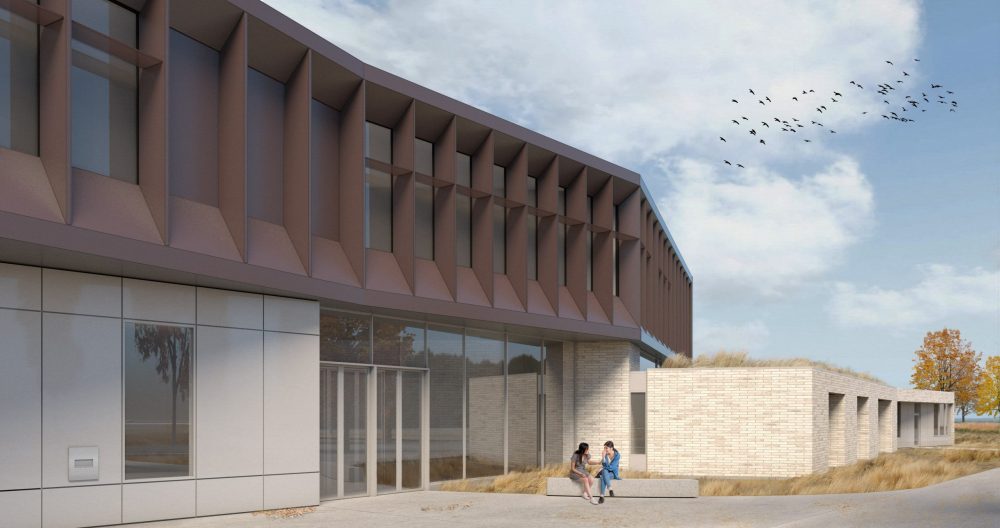 The future Centre de proximité de l'est de Laval will be a milestone in the east of this large Quebec municipality. The new centre will offer a variety of services for citizens where there were none: library, community spaces, multifunctional theater and a police station. The centre is intended to be rooted in the residents' daily lives.
The 13-acre site, once home to a petrochemical plant, is a large wasteland adjacent to a low-density residential area. The site has suffered ecologically over time and the project aims to reverse the damages. The project becomes the heart of a regeneration process, environmental and social, a healthy living space for encounters, interactions and cultural activities.
The project is placed on the site in a way to organize the area's development and allows for a variety of entrances. Cyclists, pedestrians and drivers coexist to ensure an enjoyable and useful experience for all. In a suburban area, where the car is overused, this approach is bold. To highlight this vision, the access lanes are designed as discovery paths. They educate about flora, fauna and the history of the site, as well as inform about the regeneration process underway.
The dialogue between the program and the site's energetic potential guides the project's evolution to optimize the floor plan and shape to their full potential. Inspired by the ecological principle of eco-morphosis, where every change is the result of specific data and intentions, the designers created a project unique to the site and program.
The shape was stretched and oriented to maximize south-facing surfaces and reduce solar gain to the east and west, as well as create an important marker from the future boulevard. Guided by sun paths, the openings are positioned and punctuated with sunshades to ensure the control of solar gains and an optimal contribution of natural light to the interior spaces. The volume thus created is enhanced by textures and shadows that evolve with the time of day and season. The linear and slightly angular shape of the building is perfectly integrated and therefore highlights the natural landscape. The earthy tones of the materials flow simply into the surrounding landscape and remind the viewer of the site's industrial past. The project's identity is rooted in the search for balance between the environment and the building.